this is the WSOTG pattern
This one I changed up a little.
Make a few cards using the CTMH
Pathfinding WSOTG
patterns, then try a few on your own with your "extra materials". The kit comes with 15 cards and envelops to make 5 each of 3 patterns. Or make a few and make a few of your own :o)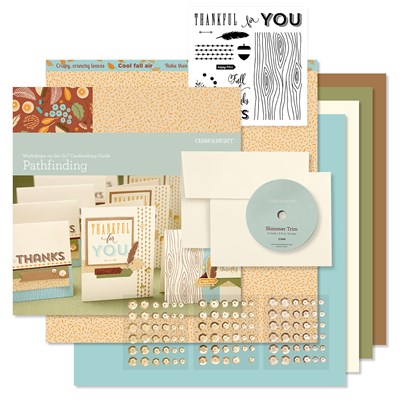 Workshops on the Go

®

Pathfinding Cardmaking Kit Contents:
1 – My Acrylix
®
Pathfinding Workshop Stamp Set (D-size)
1 – Pathfinding B&T Duos™ Papers
4 – Cardstock Sheets (1 Colonial White, 1 Glacier, 1 Kraft, 1 Olive)
15 – Colonial White Cards and Envelopes
1 – Sequins Gold Assortment (Z2012)
1 – Bronze Shimmer Trim (Z1849)
1 – Instructional Brochure
Featured Colors: Chocolate, Desert Sand, Glacier, Goldrush, Colonial White, Olive
Use the materials, accessories, exclusive D-size stamp set, and instructions in this kit to create 15 beautiful cards (5 each of 3 designs) inspired by Jeanette Lynton!